Japanese and Korean manufacturers continue to lead the way in how retailers rate the competitiveness of their retail finance offers.
According to the National Franchised Dealers Association (NFDA)'s latest Winter 2021/22 Dealer Attitude Survey (DAS), Toyota and Lexus both led joint first with the highest score of 8.9 out of 10, followed just behind by Kia with a score of  8.8. Third place was taken by Nissan with a score of 8.1.
The average for all manufacturers was 7.0.
While the results for the leaders are above average, it should be noted that this performance has dropped very slightly from the stronger performance from the previous survey, where Toyota was rated at 9.2, Lexus at 9.1 and Kia at 9.0.
The research for the latest survey was carried out in January this year, with an overall response rate of 67% on average, representing a network size of 4,117 dealers across the UK.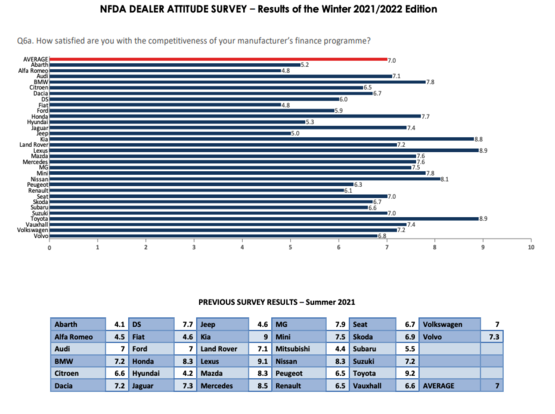 That average figure reflects the general positivity seen in the latest DAS results, with finance being a particular strong point for how manufacturers are supporting dealers in challenging market conditions.
There were still some outliers in the results with Alfa Romeo and Fiat leading joint last position at 4.8, followed by Jeep with 5.0 and then Abarth at 5.2. So it was a bit of a poor showing for these Stellantis brands, which always seems to struggle with its positioning across the board in the DAS results.
Lexus also did well in the ratings for how retailers view its approach to finance targets with the Japanese brand leading the pack with 9.1 out of 10, followed by Kia in second place with 9.0 and then Toyota with 8.9.
However, it was Kia that was the highest rated for the actual earnings potential on offer for retailers with a rating of 8.3, followed by BMW in second place with 8.0 and then Mercedes-Benz in third with 7.9.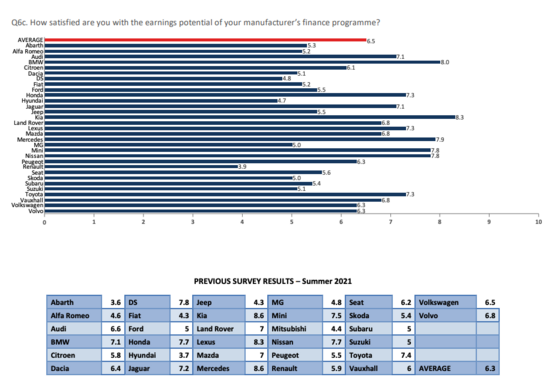 When looking into the actual offers available in Q1 from the top performing brands Toyota's offers immediately display a breadth of options across its model range.
There are 0% offers on the Aygo, Yaris, Corolla and CH-R. The rate of APR is kept low on other models too, increasing slightly to 2.9% on models like the Yaris Cross Hybrid and RAV-4 hybrids.
Toyota retailers have been bolstered with deposit contributions of £1,000 off the Corolla, Corolla Touring and C-HR crossover.
The Supra also gets a £2,000 manufacturer discount until the end of March, alongside 0% APR and a monthly payment of just under £300.
Likewise Lexus is offering deposit contributions of £1,000 on its UX 300e and then £2,000 off its UX 250h, ES, RX and RX L. The RX SUV range gets the lowest APR from Lexus at 1.9%, while the rest of the range is set at 4.9% or 5.9% in Q1.
Click here for Retail New Car Finance Offers data
Nissan is also offering deposit contributions in Q1, although at a slightly lower level compared with Toyota and Lexus. There is £250 off the Qashqai, £500 off the Juke, £1,00 off the Leaf and £1,500 off the Micra.
The Leaf stands out  in particular as one of the most affordable electric vehicles (EV) available in the UK at just £219 per month.